The largest boat and yacht event in the world will be making waves from  Wednesday, February 16th to Sunday, February 20th, 2022
Launching February 16-20 over President's Day weekend, the 2022 Discover Boating Miami International Boat Show combines the Miami Yacht Show, SuperYacht Miami, and the Miami International Boat Show to offer the largest boat and yachting event in the world.
Miami Boat Show Dates & Times
(Premier Day) Wednesday, Feb. 16th | 10 AM – 6 PM
Thursday, Feb. 17th | 10 AM – 6 PM
Friday,  Feb. 18th | 10 AM – 7 PM
Saturday, Feb. 19th | 10 AM – 7 PM
Sunday, Feb. 20th | 10 AM – 5 PM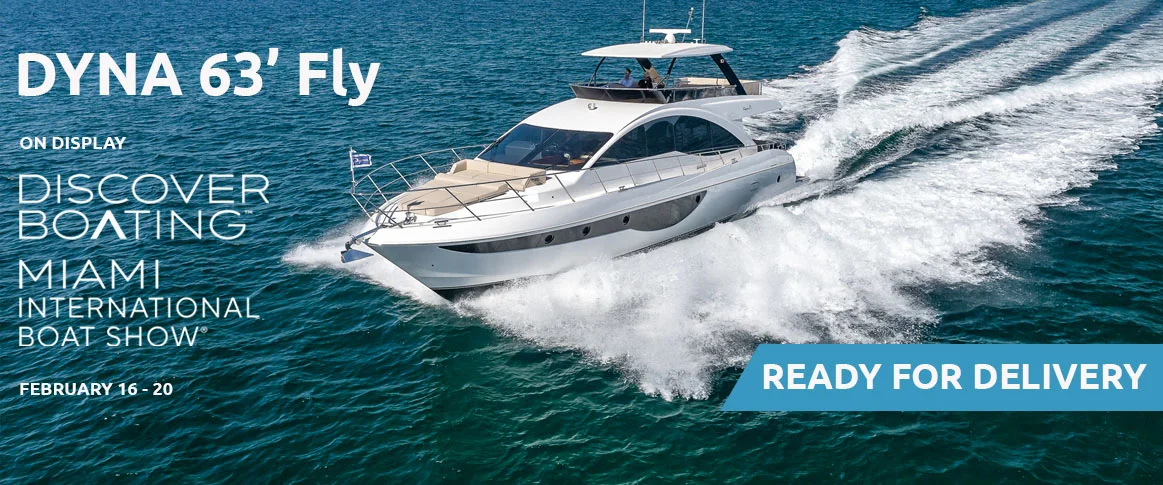 2022 MIAMI BOAT SHOW LOCATIONS 
Florida's largest annual event spans five locations. The on-land portion of the event will take place at the Miami Beach Convention Center. At the same time, Pride Park, One Herald Plaza, Sea Isle Marina, Museum Park Marina and IGY Yacht Haven Grande at Island Gardens will have boats on display and offer in-water activities.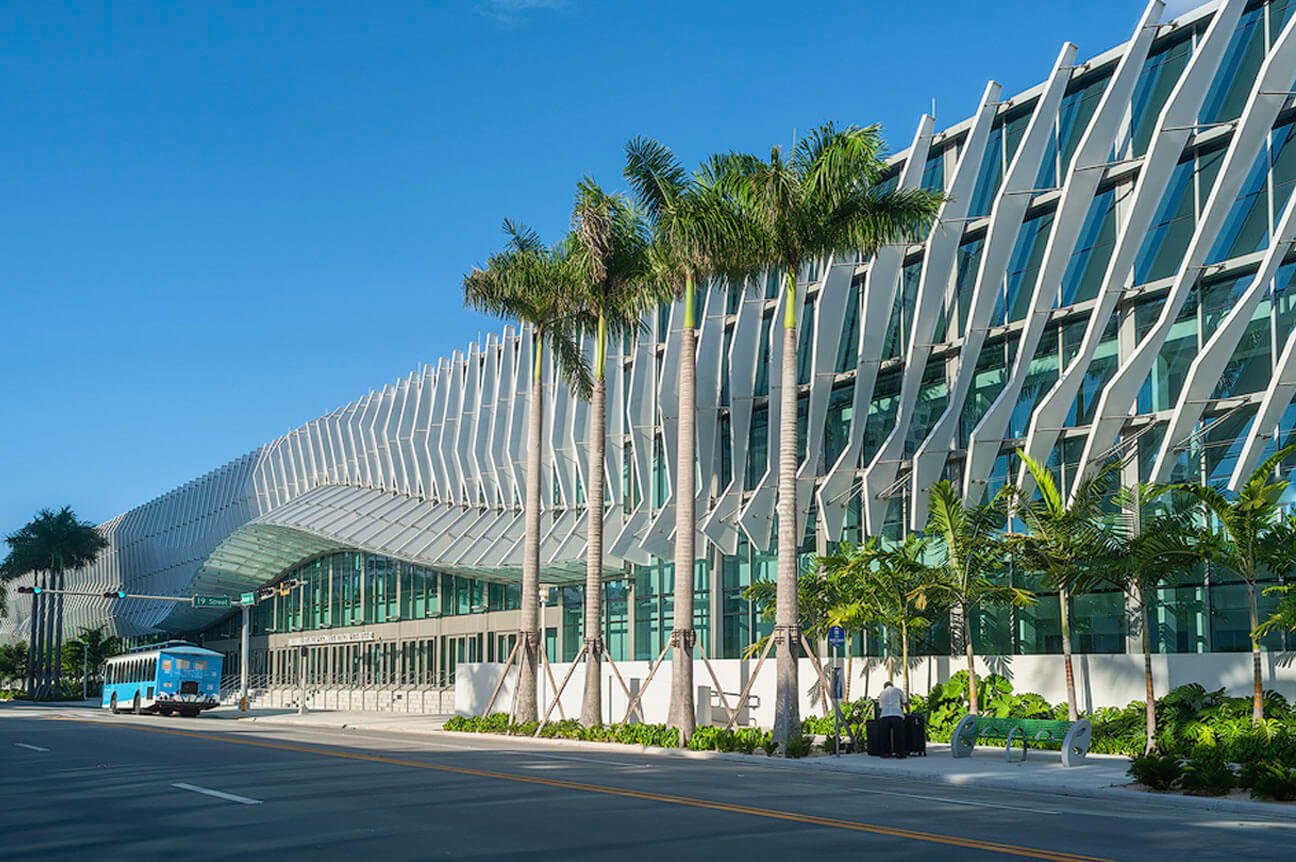 Miami Beach Convention Center 
Here, you can find powerboats up to 49 feet, engine manufacturers, electronics, retail, and marine accessory pavilions. Enjoy experiential boating lifestyle activations, entertainment, and innovative cuisine at nearby Pride Park.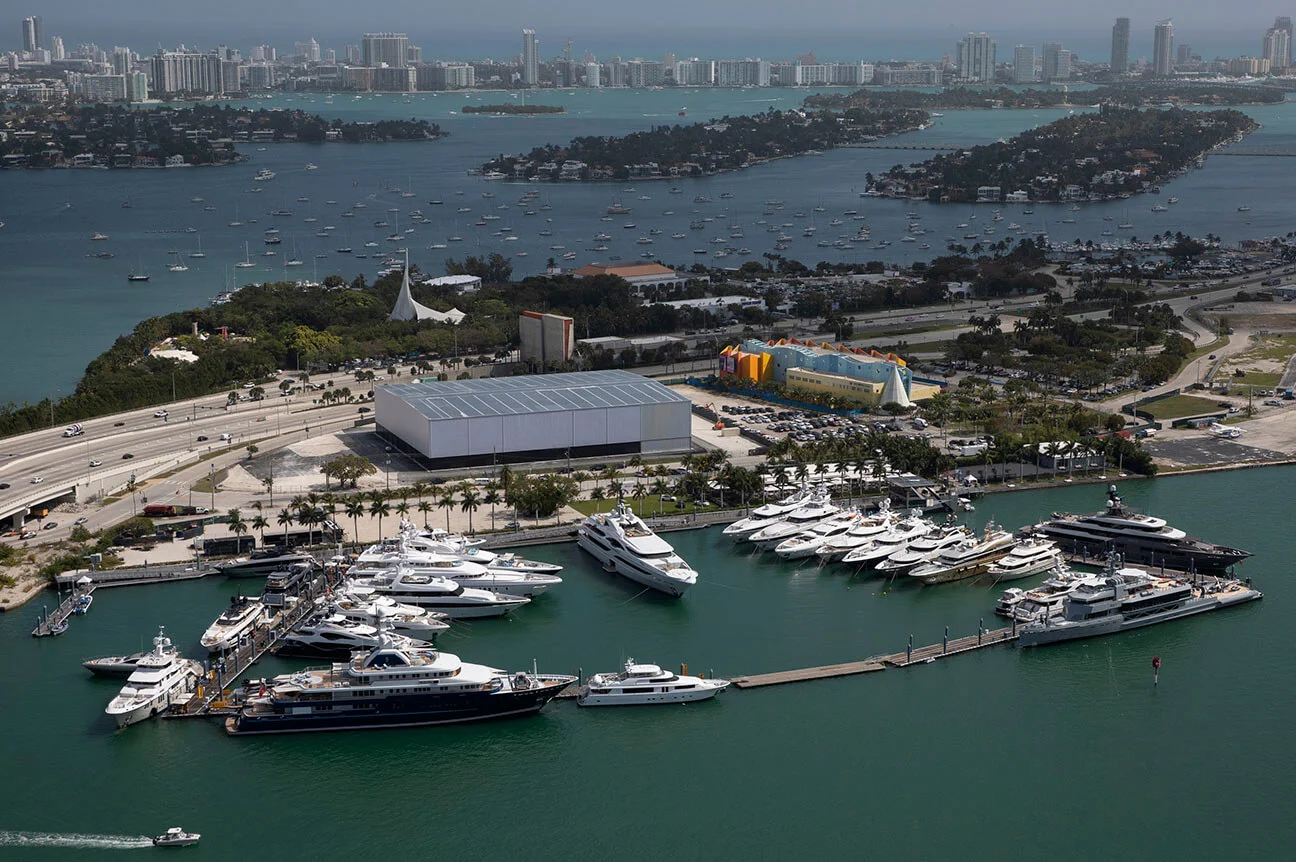 IGY Island Gardens Deep Harbour
Interested in visiting some of the largest and most opulent yachts available for sale and charter?  Then you should visit the exclusive SuperYacht Miami at IGY Island Gardens.
Museum Park Marina
If you are keen on sailing boats, the Museum Park Marina is the place where you can have a closer look at the latest sailboats, catamarans, and sailing accessories.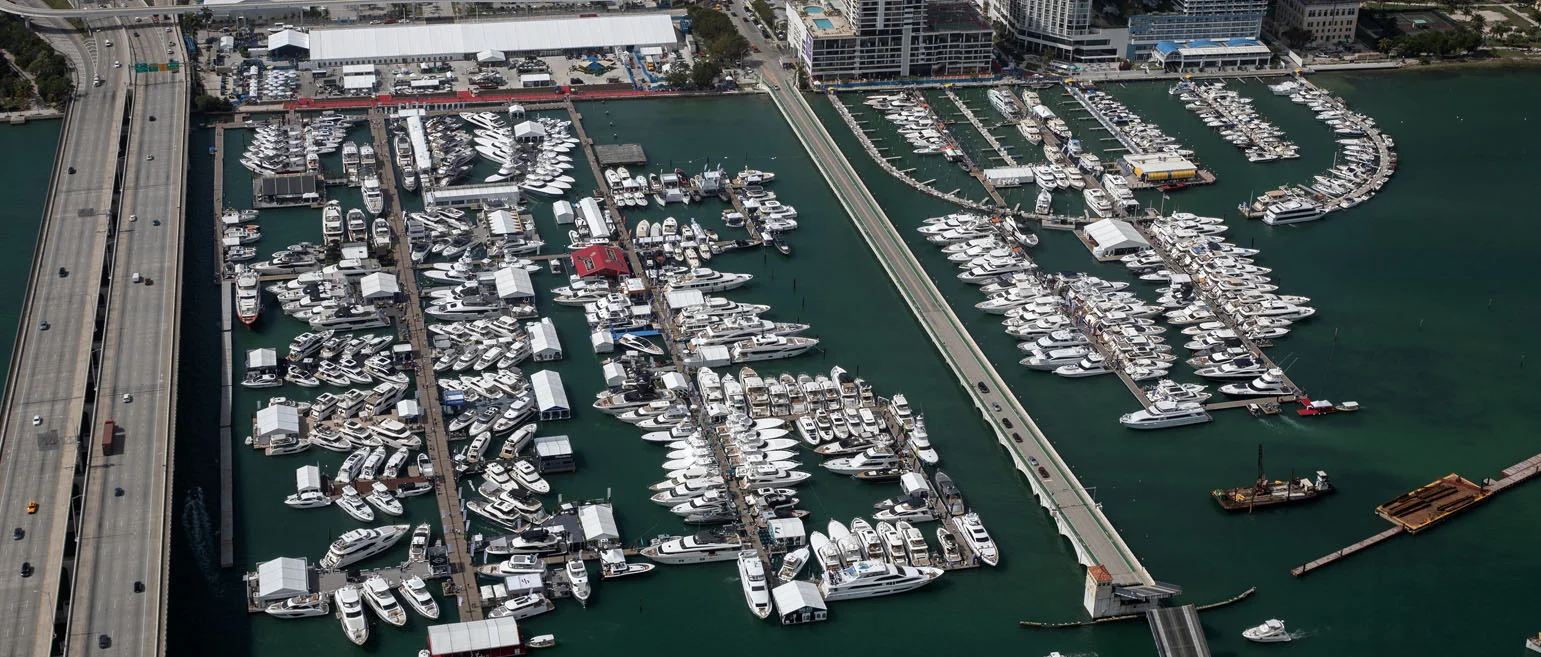 One Herald Plaza
Explore hundreds of new and pre-owned luxury powerboats and Motor Yachts ranging from 50 feet to 125 feet in length at One Herald Plaza on the Biscayne Bay. This location also includes other events and displays that appeal to the yachting lifestyle, like Yacht Tenders, Engines, Marine Accessories, and Retail Pavilions.
Sea Isle Marina
This Marina will set the stage to test drive over 150 sea trial vessels while also highlighting boat and engine manufacturers.  
Enjoy a One-Day, Two-Day, or Prime Time Preview access to the 2022 Discover Boating Miami International Boat Show. 
Tickets include access to the Miami Beach Convention Center, Pride Park, Sea Isle Marina, One Herald Plaza, and Museum Park Marina. 
Prime Time Preview One-Day Ticket: $60 (valid Wednesday – Sunday)

Adult – General Admission One-Day Ticket: $40 / 

Two-Day Ticket: $70

Children – General Admission One-Day Ticket: $15
Tickets are only available for purchase online. There will not be a ticketing box office on site.
Receive exclusive access to IGY Yacht Haven Grande at Island Gardens and VIP perks with the Windward VIP and SuperYacht Miami tickets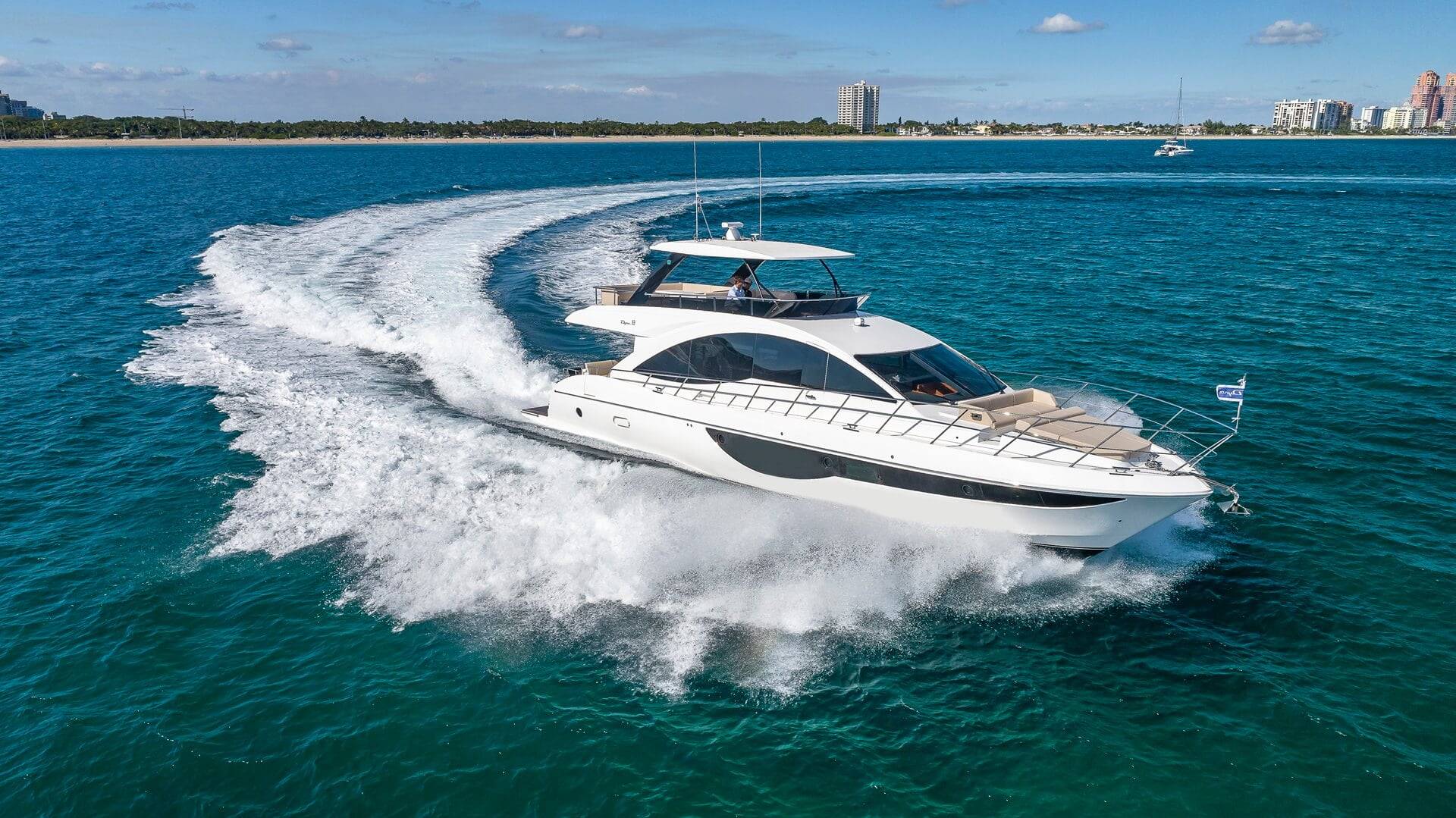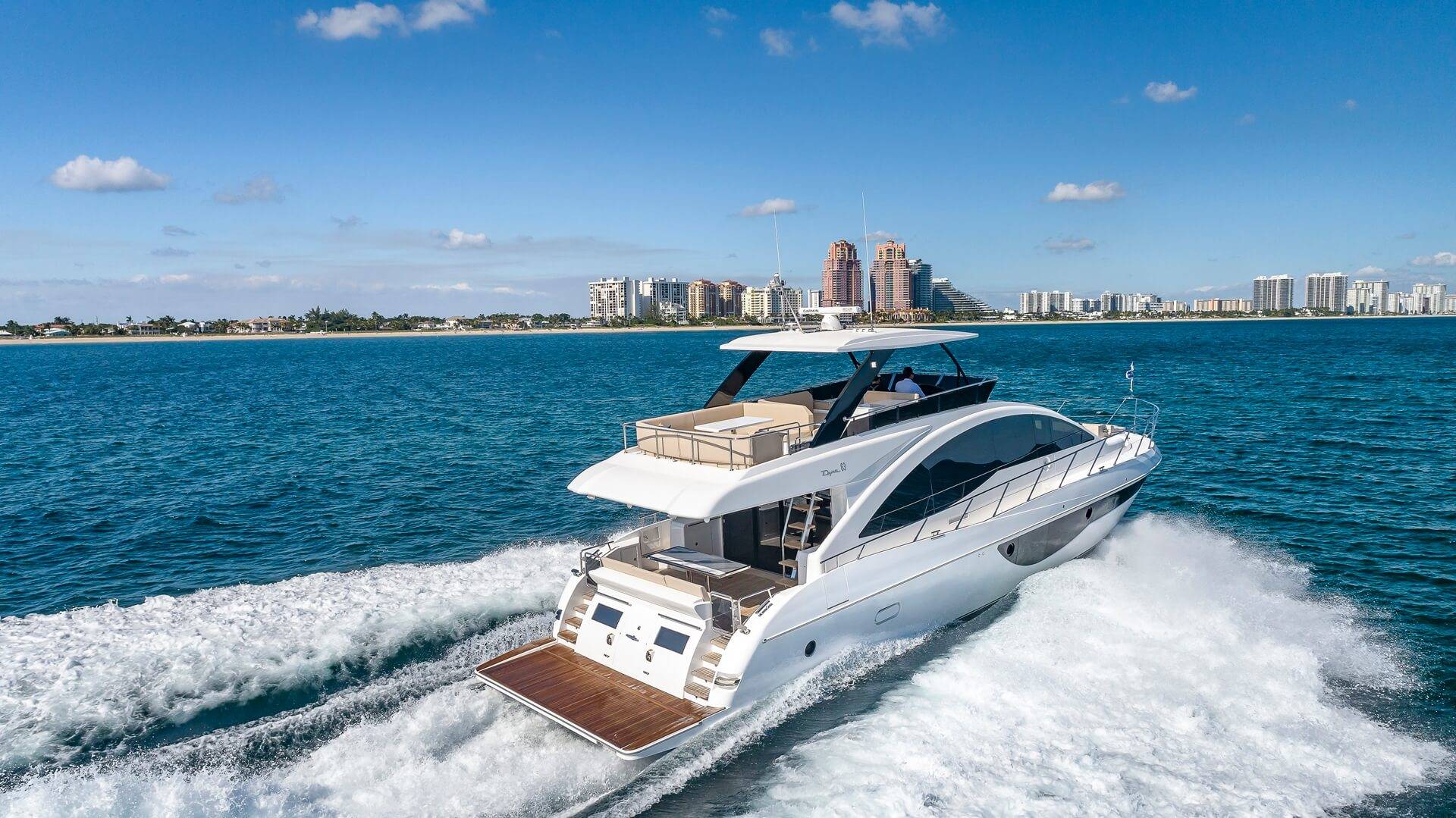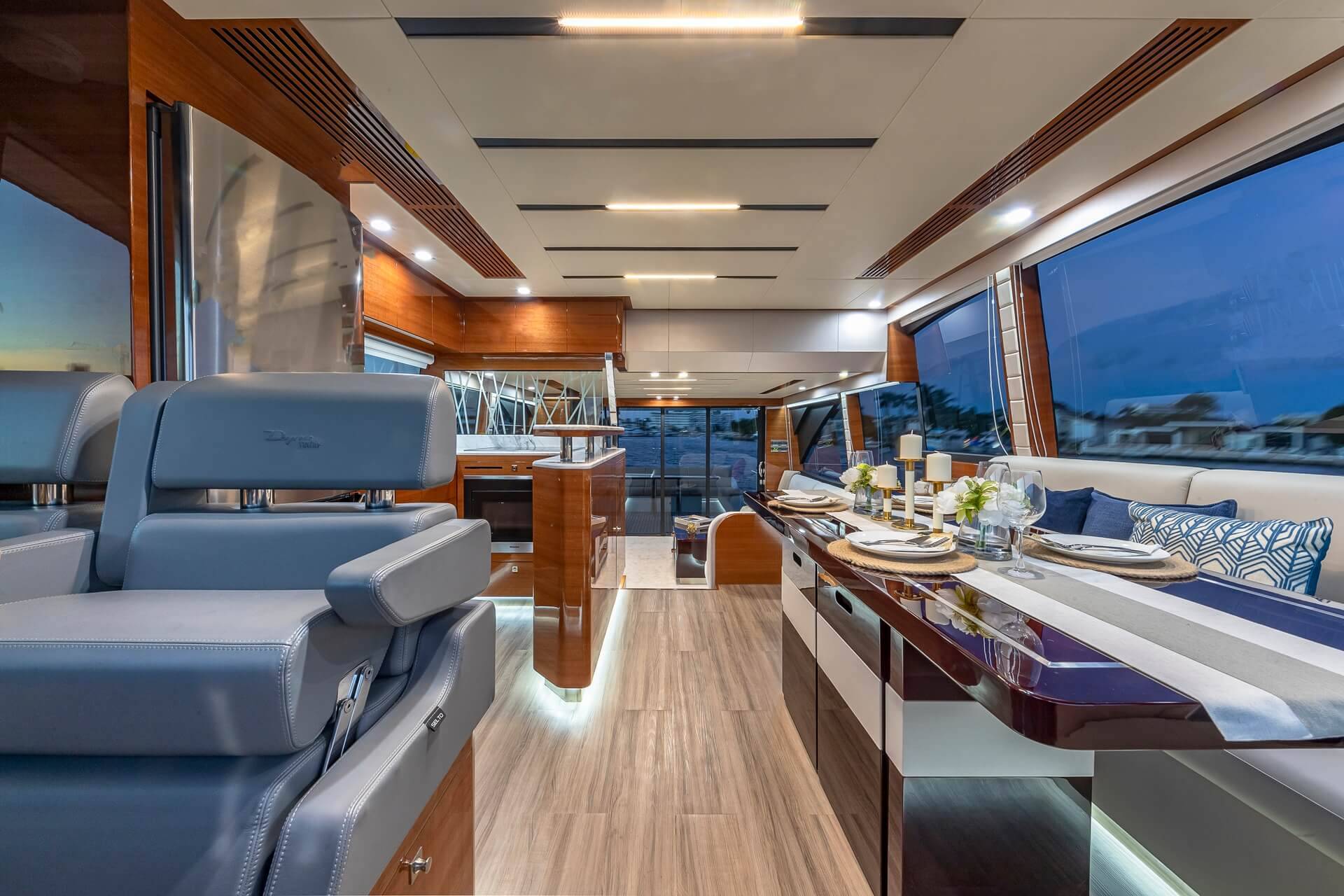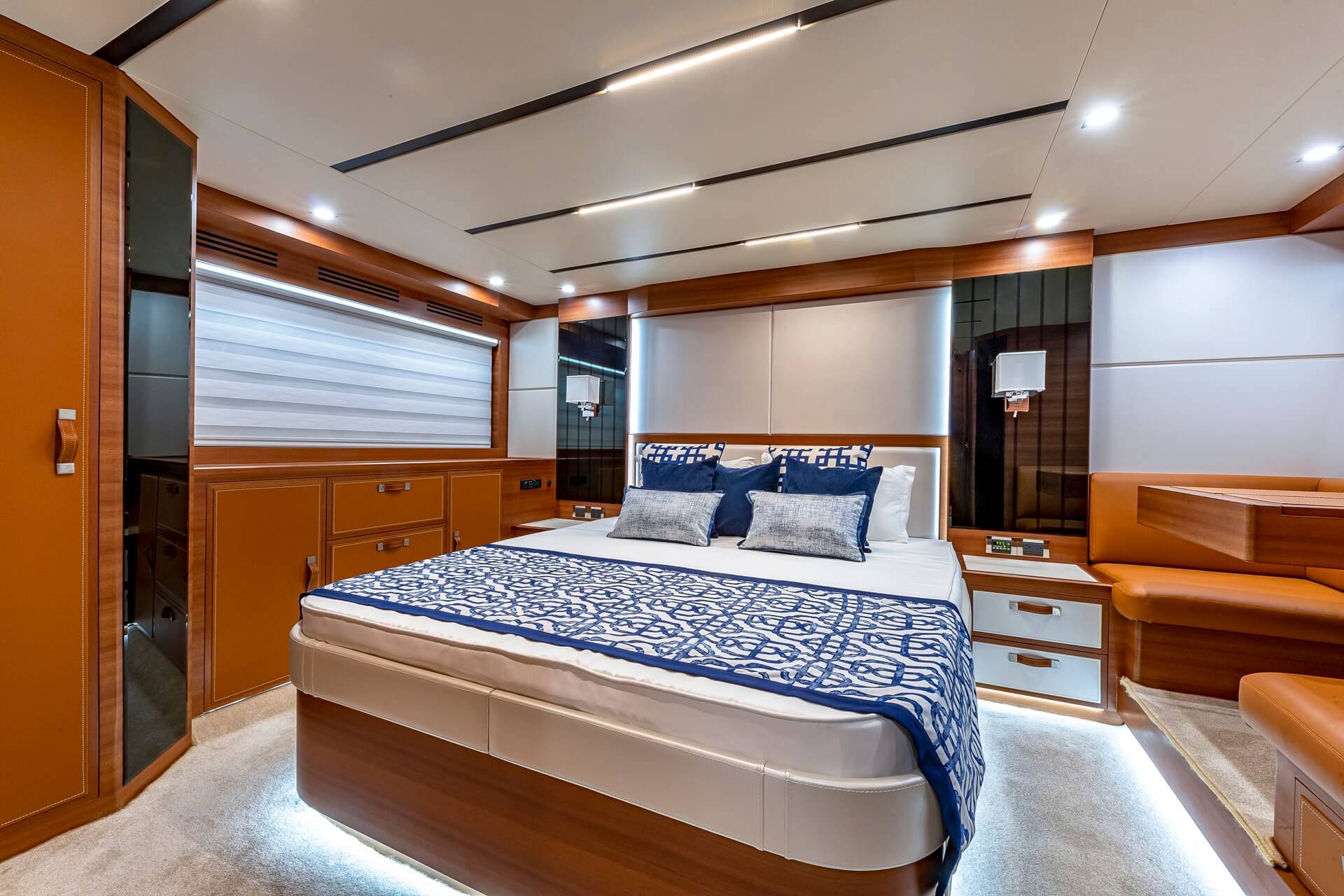 Dyna 63 Flybridge

This new flybridge cruiser model from Dyna Yachts is the consummate Motoryacht for any owner-operator who desires a great ride, combined with an elevated level of fit and finish that shows off the builder's dedication to the craft. She has indoor and outer lounge areas for entertaining large groups of family and friends and can sleep up to eight people including the crew quarters.
Flybridge
Designed for Entertaining

The 63' Flybridge, like all Dyna Yachts, has a signature look and lots of distinctive design elements. Her roomy flybridge has seating for a large group of guests and an outdoor kitchen with BBQ grill and lounging area for all to enjoy with the captain. New features have been added to enhance the enjoyment of yachting, like the new foredeck seating that provides further sunning and socializing options.
Main Deck

On the main deck, the cockpit and salon also offer choices in entertaining friends and family. The aft deck delivers an ideal alfresco dining experience to complement the interior dining area and U-shaped open galley separated a few steps from the luminous salon. Owners can choose from an aft galley forward, or even have the galley located down below.
Below Deck

The interior spaces are skillfully designed to create a restful and intimate vibe, combining aesthetics with function. Natural wood, leather and top quality decorative features are found throughout the vessel, creating a relaxed atmosphere of minimalist luxury while incorporating a full-beam master cabin with ensuite head plus two spacious cabins and heads.The spacious crew quarters can double as extra guest accommodations when needed.
PLACES TO VISIT DURING THE MIAMI YACHT SHOW 
Visitors to Miami are going to want to explore the area a bit between boat show events and seeing all the latest yacht models on display. Here's a quick guide to other great things to check out while you are in town.
BRICKELL CITY CENTER
The Brickell City Center is a massive and super modern development located right in Brickell, the city's financial center. Like a European city center brought to life in the context of today's South Florida, it's known for its contemporary architecture and sustainable design features. The facility spans three city blocks, joining residential spaces with offices towers and providing a lively urban hub on the ground levels. Miami visitors are attracted to the city for its unique fashion and culinary experiences. 
MIAMI BEACH 
You can't say you've been to The Magic City without strolling down Miami Beach. Lined with Art Deco hotels, clubs and storefronts, this coastal hotspot is known for more than just its white-sand beach. Take a break from the bustling yacht shows to visit the oceanfront cafes, nightclubs, and spas. It's also great for activities like tennis, golf, and seaside bike rides. 
MIAMI DESIGN DISTRICT
The Miami Design District is a crossroads of everything creative: art, architecture, culture, fashion and gourmet cuisine. While you're in Florida, you will want to stop here for some fabulous shopping and fine dining crafted by celebrity chefs. The upscale boutiques and stores have everything from design furniture, jewelry and luxury fashion. You can also find art galleries with special events connected to Art Basel Miami Beach which is held each year in December. 
FUN FACTS
Historically, the Miami International Boat Show, the Miami Yacht Show, and SuperYacht Miami have attracted over 100,000 visitors from approximately 35 countries around the globe to South Florida while generating an estimated $1.34 billion for the state, which is equivalent to the impact of hosting nearly 3 Super Bowls. Now that international travel restrictions have been lifted, the Discover Boating Miami International Boat Show is expected to welcome back the global community of guests to this epic, five-day boating event – a welcome boon to South Florida's tourism and hospitality sector.
BEST PLACES TO EAT IN MIAMI WITH A VIEW
Zuma Terrace Miami
For a taste of the trendiest cuisine in Miami right now, try Zuma. Located at the Epic hotel, it's easy to get to from downtown shows locations.
Chef Rainer Becker has gotten international recognition for his modern spin of Japanese specialties. The menu is interesting, fresh, and bold, while the dining environment is classy and full of life.
The Deck at Island Gardens Marina
If you visit the Superyacht display on Island Gardens Marina, you can try The Deck for lunch. The Deck is one of Miami's most exquisite outdoor lounges and the perfect environment for guests to wine, dine and soak in the sun while admiring the beautiful yachts. Chef Alfio Longo proposes a special lunch menu for the occasion.
La Mar by Gaston Acurio
Featuring the acclaimed cuisine of chef Gastón Acurio, La Mar offers the chance to explore the authentic and diverse flavors of Peruvian cuisine with dramatic water views. If you want to sit outside and stare at the Biscayne Bay and Miami skyline, this is where you want to be.
LOOKING TO BUY A NEW CUSTOM MOTORYACHT ?
For over 30 years, the Dyna team has been building luxurious sport yachts, flybridge yachts, and motor yachts with the highest quality of materials and components. Every boat is crafted with the owner's experience in mind first, resulting in a delivery that is truly unforgettable.